IE News
IE's annual team away day on the River Wye
It's our favourite time of year again! The IE team headed off to the English/Welsh border for our annual away-day, where we picked up our paddles, commandeered some canoes and gave the River Wye what-for.
---

---
Thursday – Camping
A couple of weeks ago, the whole of IE downed tools on Thursday evening, jumped in our cars and made our way down to a campsite at Lower Porthamel in the Brecon Beacons. While half of us pitched tents in the orchard, the rest set up camp beds in the shelter of the barn. Then with beers at the ready, our MD Ollie fired up the barbeque and the real fun began.
Embracing the simple things
With limited internet access to distract us, we resorted to more traditional forms of entertainment. Trev, one of IE's newest recruits and a camping novice, demonstrated the 'coin snatching challenge' and impressed everyone with his (slightly rusty) coin catching skills – only to be upstaged by Luke, who it turns out is a natural. That said, it's doubtful the world record holder needs to feel threatened by either of them just yet! Check out our slow-motion videos...
By this point Ollie had grilled up a storm for everyone, so we all piled around the picnic tables in glorious sunshine for a fine selection of burgers, sausages, halloumi and salads. Then it was time to build a campfire, led by Kate, Matt and Tim. The rest of the night consisted of sharing stories – and laughs – under a clear sky and lots of stars. One memorable moment was watching Ollie trying to light the pipe he'd brought with him for 15 mins, much to our amusement – demonstrating the value of the simple things in life!
Eventually, it was time to drift off to our beds to catch a few zeds ahead of a long day on the water.
Friday – Canoeing
Friday morning, bright and early (or certainly early) we headed down to The Riverside Cafe in Glasbury-on-Wye for a hearty breakfast, where we met up with a few more of the team who had travelled down that morning. Then it was time to head across to Wye Valley Canoes to pick up our flotation aids, oars and a briefing. Our canoes were waiting!
All aboard
We organised ourselves into pairs – some in fancy dress – and made our first few tentative oarstrokes on the river.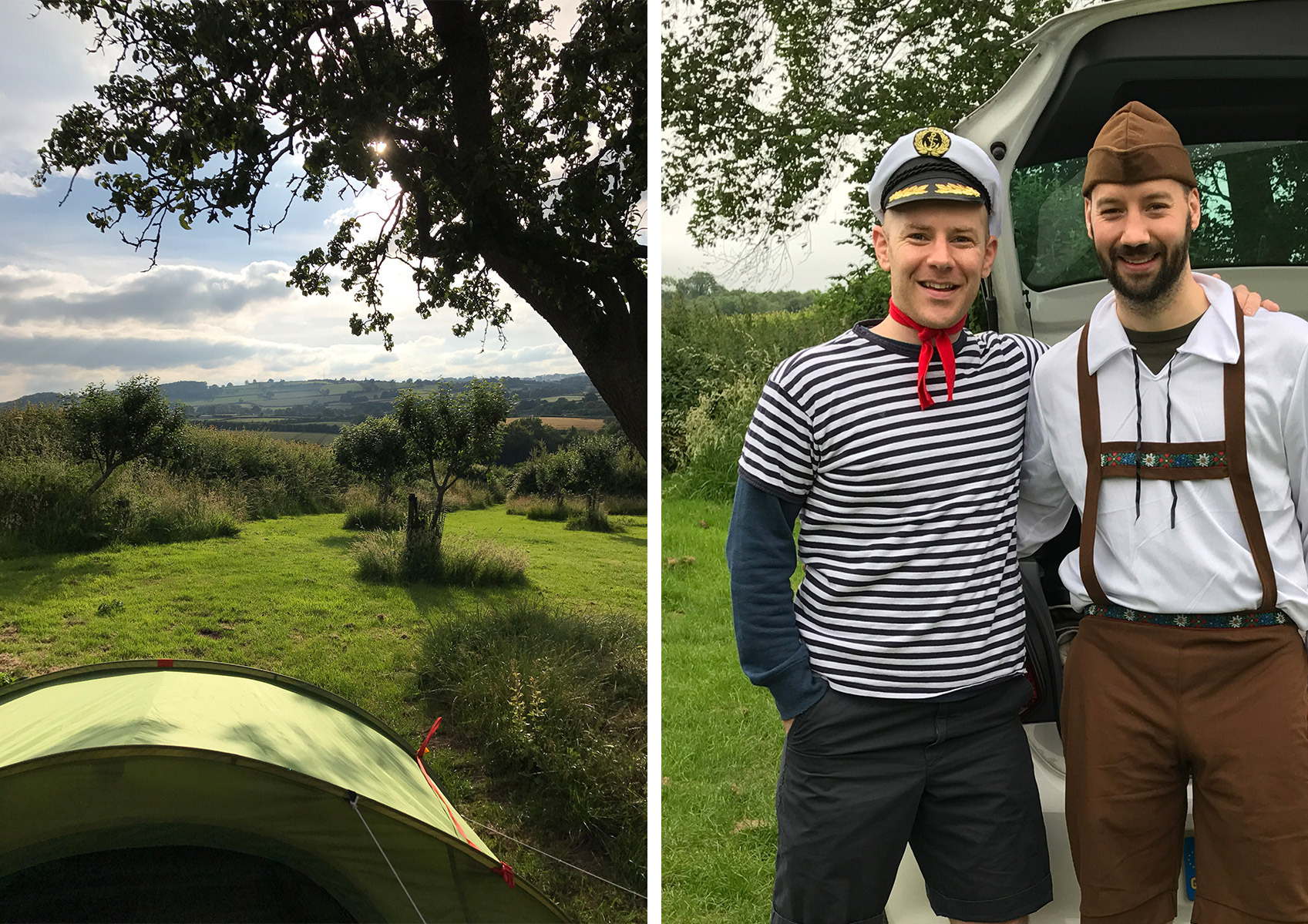 In 2016, the rowing had been pretty easy-going, as a lot of recent rain had made the river very high and very fast. We made light work of the 10.5 mile course in around three hours. But this summer it was rather more challenging, with a much slower river requiring a lot more paddle power.
This also meant navigating a lot of shallow waters, with exposed rocks and fallen debris to contend with. Ollie and Denise were the river's first and only real casualties of the day, veering up a branch and slowly capsizing into the (fortunately warmish) water! Luckily with no real harm done and a helping hand from passers-by Pascaline and Ed, the damp and bedraggled pair of oarsmen were soon back on the water.
Naughty schoolchildren
With most of us now hitting our stride and getting the hang of our vessels, one boat in particular* seemed to find steering a challenge and spent much of the route trying to rescue themselves from various riverside shrubbery. After the rest of IE had spent more time waiting for them than actually rowing, action was required in the interest of actually reaching the pub before nightfall.
The tough decision to split the two up like naughty schoolchildren seemed to do the job, and we picked up the pace after our lunch stop and onwards to the pub at Whitney.
We all made good progress along the rest of the route, just stopping occasionally for some competitive splashing and arriving back at the Boat Inn by around 5pm. With our canoes disembarked, all that remained was for us to head for home, nurse our aching arms and look forward to next time!
*Offenders' names have been redacted to protect reputations.
IE's aim has always been to (1) make a difference and (2) enjoy the ride. Annual away days are just one part of a generous benefits package IE offers to its staff, and it's a brilliant way for us to bond as a team.

Ollie Leggett
Managing Director, IE